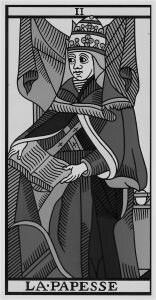 Meaning of the tarot 
This card represents the power of intuition and knowledge, embodied by a pure and confident woman, centered on herself and a deep expert of her own and others' emotions. The Priestess does not act on the material level, but on the deepest level of the psyche. She is calm and detached, she knows how to wait for the right time to act and her inner purity allows her not to be contaminated by negative emotions. It has an open book, i.e. the keys of the past, present and future, and the egg, which hatched with dedication and awareness is the symbol of birth and rebirth, even of what seems lost.   
The myth of the popess 
The figure of the popess is considered by historians to be like a myth or a medieval legend, so much so as to have inspired, over the years, numerous films and books.   According to medieval legends, among the various popes who succeeded each other over the years, around the 1800s there would have been one female, who managed to conquer the most prestigious hierarchical position in the ecclesiastical world by dressing up as a man. According to her story, however, when her secret was revealed, the woman was sentenced to death and her name deleted from the lists of the popes.   Nowadays there is no evidence of her actual existence, if not some trace, so the popess remains a figure suspended between reality and legend, but surely has become over time a symbol of an intelligent, tenacious and rebellious woman who refuses submission to rules without justice.   
 https://www.dshirt14.com/listing/201386818/t-shirt-le-papesse-tarot-de-marseille 
 https://www.designed-shirt.com/en/tarot-de-marseille/140-t-shirt-tarot-of-marseilles-la-papesse-the-popesse.html 
Significato del tarocco
Questa carta rappresenta la forza dell'intuizione e della conoscenza, impersonata da una donna pura e sicura, centrata su sé stessa e profonda conoscitrice delle emozioni proprie e altrui. 
La Sacerdotessa non agisce a livello materiale, ma al livello più profondo della psiche. È calma e distaccata, sa aspettare il tempo giusto per agire e la sua purezza interiore le permette di non essere contaminata dalle emozioni negative.  Ha il libro aperto, ovvero le chiavi del passato, del presente e del futuro, e l'uovo, che covato con dedizione e consapevolezza è il simbolo della nascita e della rinascita, anche di ciò che sembra perduto. 
Il mito della papessa
La figura della papessa è considerata dagli storici alla stregua di un mito o una leggenda medievale, tanto da aver ispirato, nel corso degli anni, numerosi film e libri. 
Secondo le leggende medievali, tra i vari papi che si sono succeduti negli anni, intorno all'800 ce ne sarebbe stato uno di sesso femminile, che riuscì a conquistare la posizione gerarchica più prestigiosa del mondo ecclesiastico travestendosi da uomo. A quanto racconta la sua storia però, quando il suo segreto fu svelato, la donna fu condannata a morte e il suo nome cancellato dalle liste dei pontefici.
Al giorno d'oggi non ci sono prove della sua effettiva esistenza, se non qualche traccia, per cui la papessa rimane una figura sospesa tra realtà e leggenda, ma sicuramente è diventata nel tempo un simbolo di una donna intelligente, tenace e ribelle che rifiuta la sottomissione a regole prive di giustizia.
 https://www.dshirt14.com/listing/201386818/t-shirt-le-papesse-tarot-de-marseille 
 https://www.designed-shirt.com/en/tarot-de-marseille/140-t-shirt-tarot-of-marseilles-la-papesse-the-popesse.html