❤ Qualunque sia la leggenda legata alla tradizione di San Valentino ciò che ci accomuna tutti quando pensiamo a questa festa, è l'Amore.
L'amore indiscriminato, totale che, ci piace pensare, tocchi tutti gli esseri viventi. L'Amore travolgente che ci fa sentire le farfalle nello stomaco e sia in grado di emozionarci al solo pensiero o alla presenza della nostra metà della mela.
Anche gli animali a volte hanno degli atteggiamenti che facilmente possono essere tradotti come gesti di amore nei confronti del proprio compagno o compagna. Tra questi i 5 che simbolicamente rappresentano la fedeltà e l'amore : il lupo, il pinguino, il pappagallo, l'aquila e il cigno.
https://www.designed-shirt.com/it/42-animals-in-love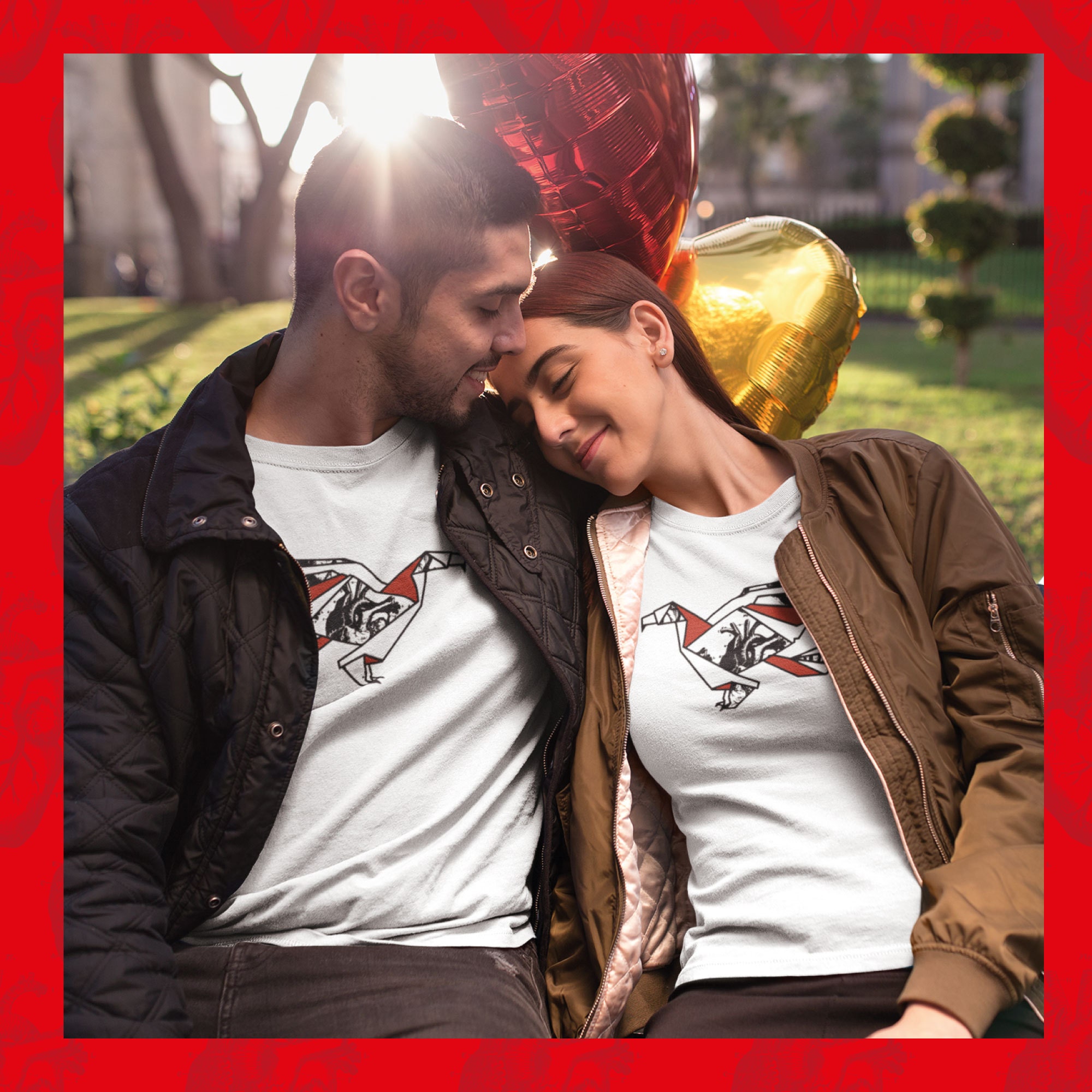 🦅 AQUILA
L' Aquila raggiunge la maturità sessuale a circa 4 anni: l'accoppiamento, chiamato Danza del Cielo, avviene in un modo spettacolare in mezzo alle nuvole.  Questa Danza del Cielo prevede giorni e giorni di spettacolari capriole ad alta quota dove la femmina della coppia esegue un volo rovesciato continuo e in cui i partner si lanciano in picchiata a vicenda, afferrandosi per i piedi e ruotando insieme mentre precipitano verso terra, lasciandosi prima dell'impatto. L'aquila è un uccello monogamo e quando sceglie un compagno è per la vita, almeno fino a quando uno dei membri della coppia non muore. 
https://www.designed-shirt.com/it/animals-in-love/604-coppia-di-t-shirt-origami-animals-in-love-eagle-aquila.html
https://www.dshirt14.com/listing/927722500/coppia-di-t-shirt-origami-animals-in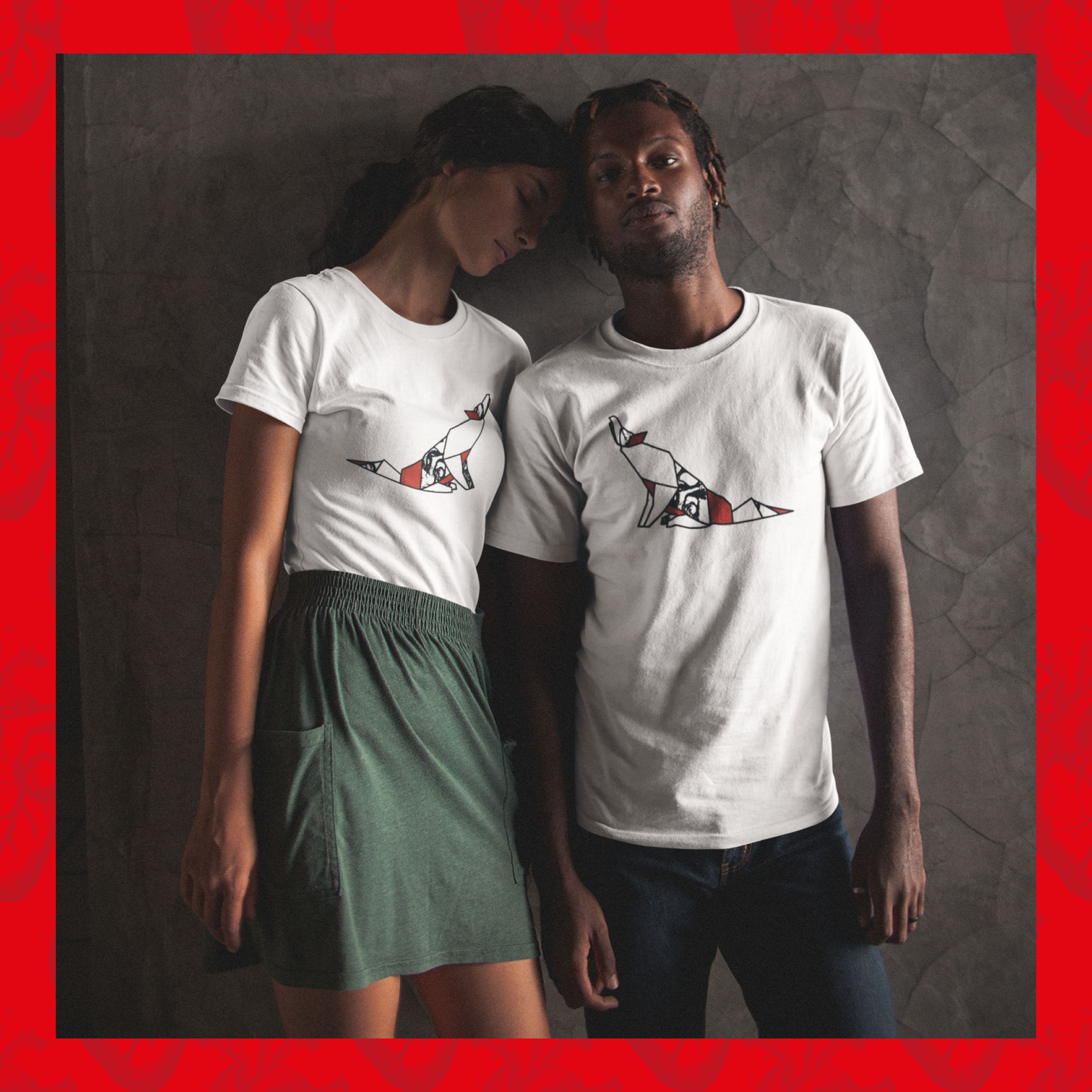 🐺 LUPO
Una coppia di lupi resta insieme tutta la vita, ma non solo per una questione di riproduzione. I lupi sono uno degli animali più fedeli al proprio partner che si possano trovare in natura. Non si sa esattamente cosa porti un lupo a scegliere una determinata lupa e viceversa, ma quando due lupi si accoppiano restano insieme per tutta la vita, ovvero da 6 a 8 anni allo stato brado o anche fino a 15 anni in cattività. Il lupo è un animale molto fedele (più fedele dell'essere umano) e si riproduce con un altro suo simile solo se uno dei due muore o si perde e non fa ritorno nel branco.
https://www.designed-shirt.com/it/animals-in-love/602-coppia-di-t-shirt-origami-animals-in-love-wolf-lupo.html
https://www.dshirt14.com/listing/927720098/coppia-di-t-shirt-origami-animals-in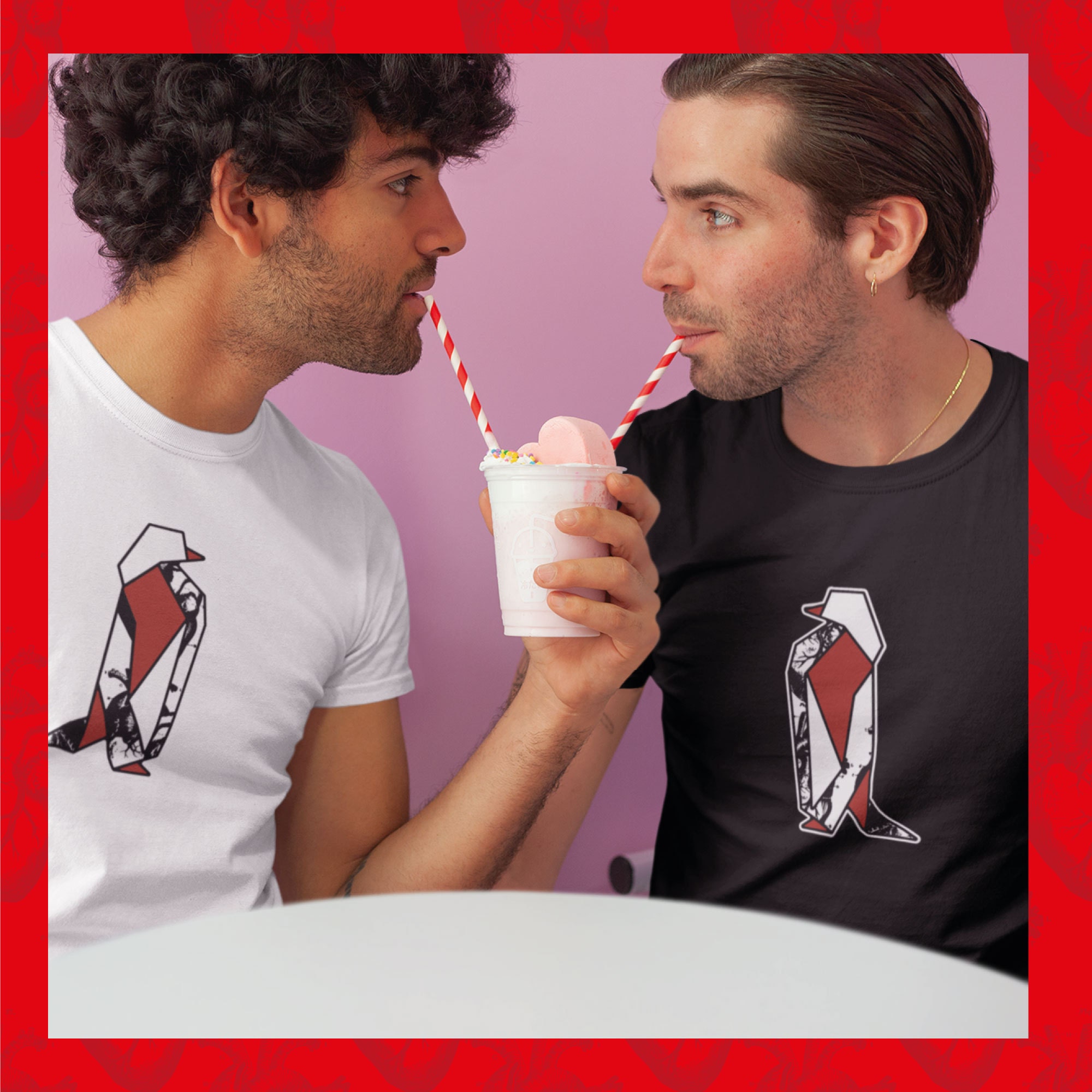 🐧PINGUINI
Nei pinguini il maschio realizza un corteggiamento prima dell'accoppiamento : gracchia per richiamare l'attenzione della femmina, si pettina le piume o inizia a creare un nido, anche se Va precisato che sono le femmine che scelgono il loro compagno, decisione molto importante per il futuro della prole e anche perché rimarranno uniti per tutta la vita. 
Una volta che la femmina ha scelto il suo compagno maschio si esibiscono per suggellare il vincolo che li unisce : sono soliti rimanere quieti uno di fronte all'altro, mentre allungano la testa, muovono le ali e si agitano, possono inchinarsi,far vibrare le ali/pinne o gracchiare all'unisono. 
Dopo l'accoppiamento i pinguini si alterneranno ad incubare le uova e a prendersene cura fino alla loro schiusa. 
Sono animali monogami, stanno col proprio compagno per tutta la vita (finché uno dei due non muore).
Possono diventare estremamente aggressivi nel caso in cui osservano un altro pinguino sedurre la propria compagna. 
https://www.designed-shirt.com/it/pop-origami-animals-/600-coppia-di-t-shirt-origami-animals-in-love-penguin-pinguino.html
https://www.dshirt14.com/listing/941659425/coppia-di-t-shirt-origami-animals-in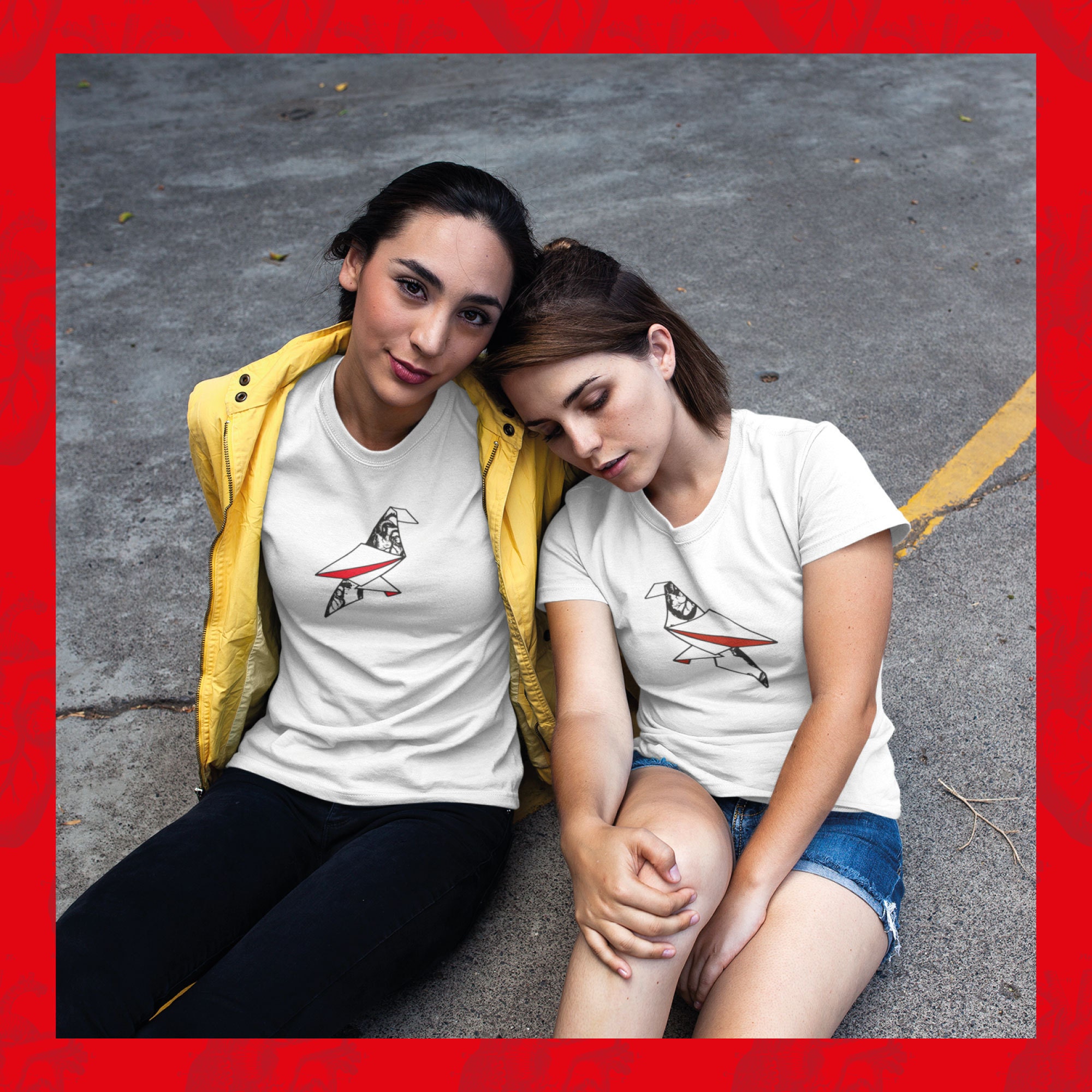 🦜PAPPAGALLO
Il pappagallo è un animale sociale che si sente solo e triste quando non è in compagnia. È in assoluto uno degli animali più fedeli al partner, infatti, avrebbe bisogno di una compagna al suo fianco per essere felice. Se riceve la fortuna di essere in buona compagnia, non vorrà più separarsi dal partner! La morte di un amico o del proprio compagno/a è un evento terribile per il pappagallo e può portarlo a soffrire stati d'ansia.
https://www.designed-shirt.com/it/animals-in-love/603-coppia-di-t-shirt-origami-animals-in-love-parrot-pappagallo.html
https://www.dshirt14.com/listing/927724486/coppia-di-t-shirt-origami-animals-in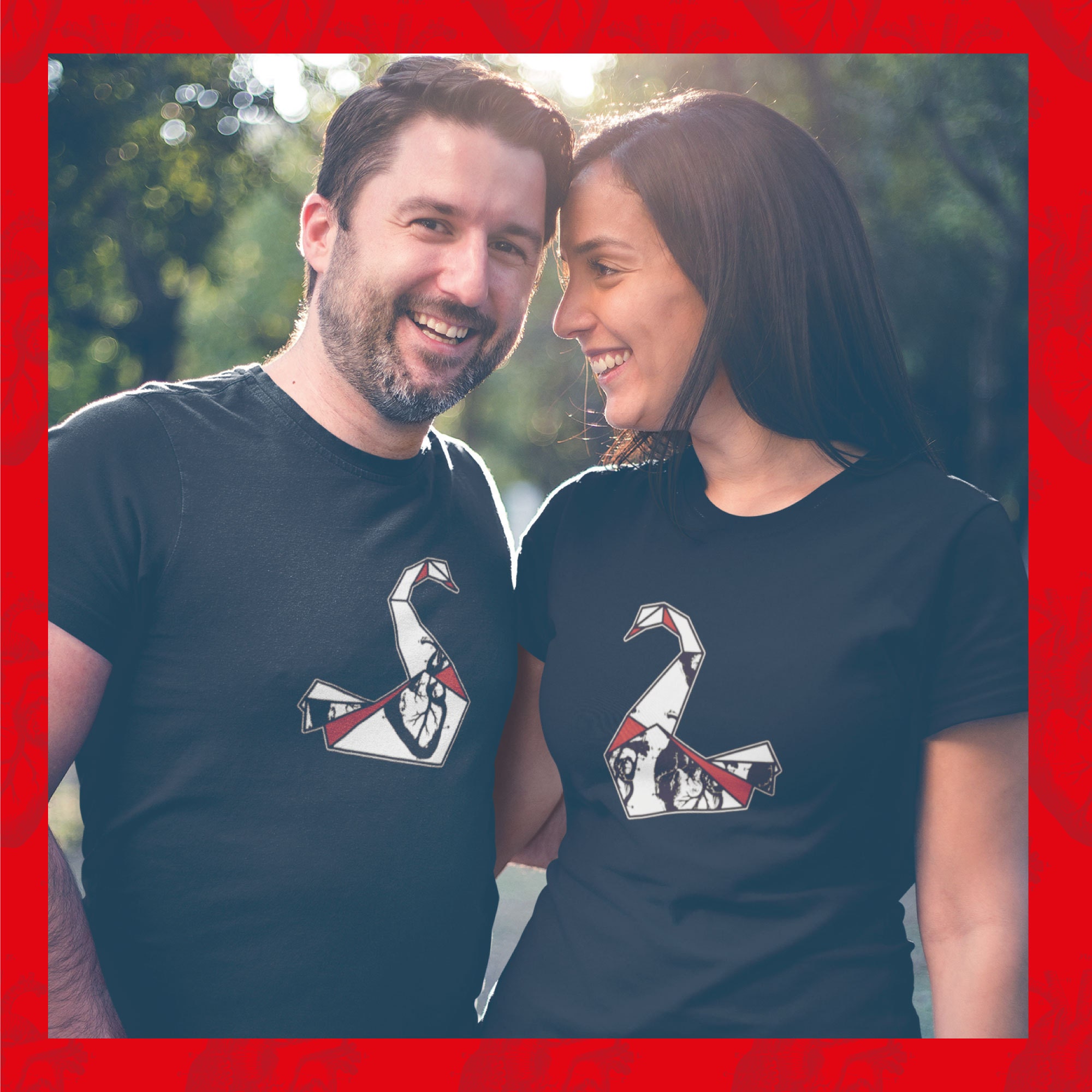 🦢CIGNO
I cigni sono animali che vivono in coppia, e tendono fare conoscenza del partner nei mesi invernali. Quando si incontrano, nuotano uno vicino all'altro realizzando dei movimenti del collo caratteristici e ammalianti. Un volta che la femmina ha deposto le uova sarà lei che si prenderà cura dei piccoli, anche se può verificarsi il contrario in alcune occasioni eccezionali. Sono animali molto territoriali nelle vicinanze di dove crescono i cuccioli e potrebbero mostrarsi aggressivi con altri cigni e addirittura con l'essere umano. Una volta trovato il partner restano fedeli: alcuni esemplari persino dopo la morte del compagno non cercano di ricostituire una coppia.
https://www.designed-shirt.com/it/animals-in-love/601-coppia-di-t-shirt-origami-animals-in-love-swan-cigno.html
https://www.dshirt14.com/listing/941657201/coppia-di-t-shirt-origami-animals-in
ENGLISH
❤Whatever the legend linked to the tradition of Valentine's Day, what unites us all when we think of this celebration is Love.
Indiscriminate, total Love that, we like to think, touches all living beings. The overwhelming love that makes us feel butterflies in the stomach and is able to excite us at the mere thought or presence of our half of the apple.
Even animals sometimes have attitudes that can easily be translated as gestures of love towards their partner. Among these, five symbolically represent fidelity and love: the wolf, the penguin, the parrot, the eagle and the swan.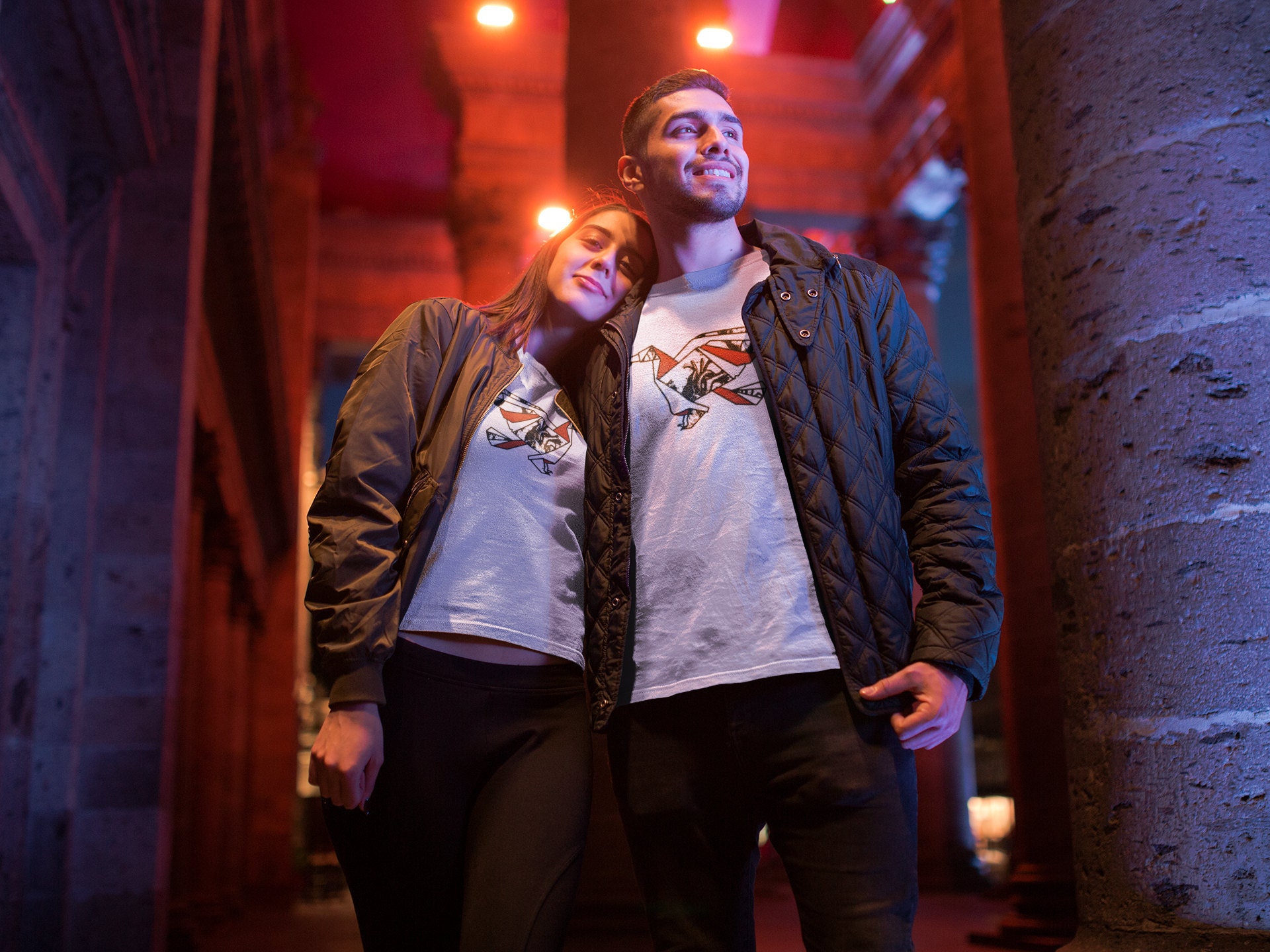 🦅EAGLE
The Eagle reaches sexual maturity at about 4 years of age: mating, called the Dance of the Sky, takes place in a spectacular way in the middle of the clouds. This Dance of the Sky involves days and days of spectacular high-altitude somersaults where the female of the pair performs a continuous inverted flight and where the partners swoop into each other, grabbing each other's feet and spinning together as they plummet to the ground, leaving just before the impact. The eagle is a monogamous bird of pray and when it chooses a mate it is for life, at least until one of the couple's members dies.
https://www.etsy.com/listing/927722500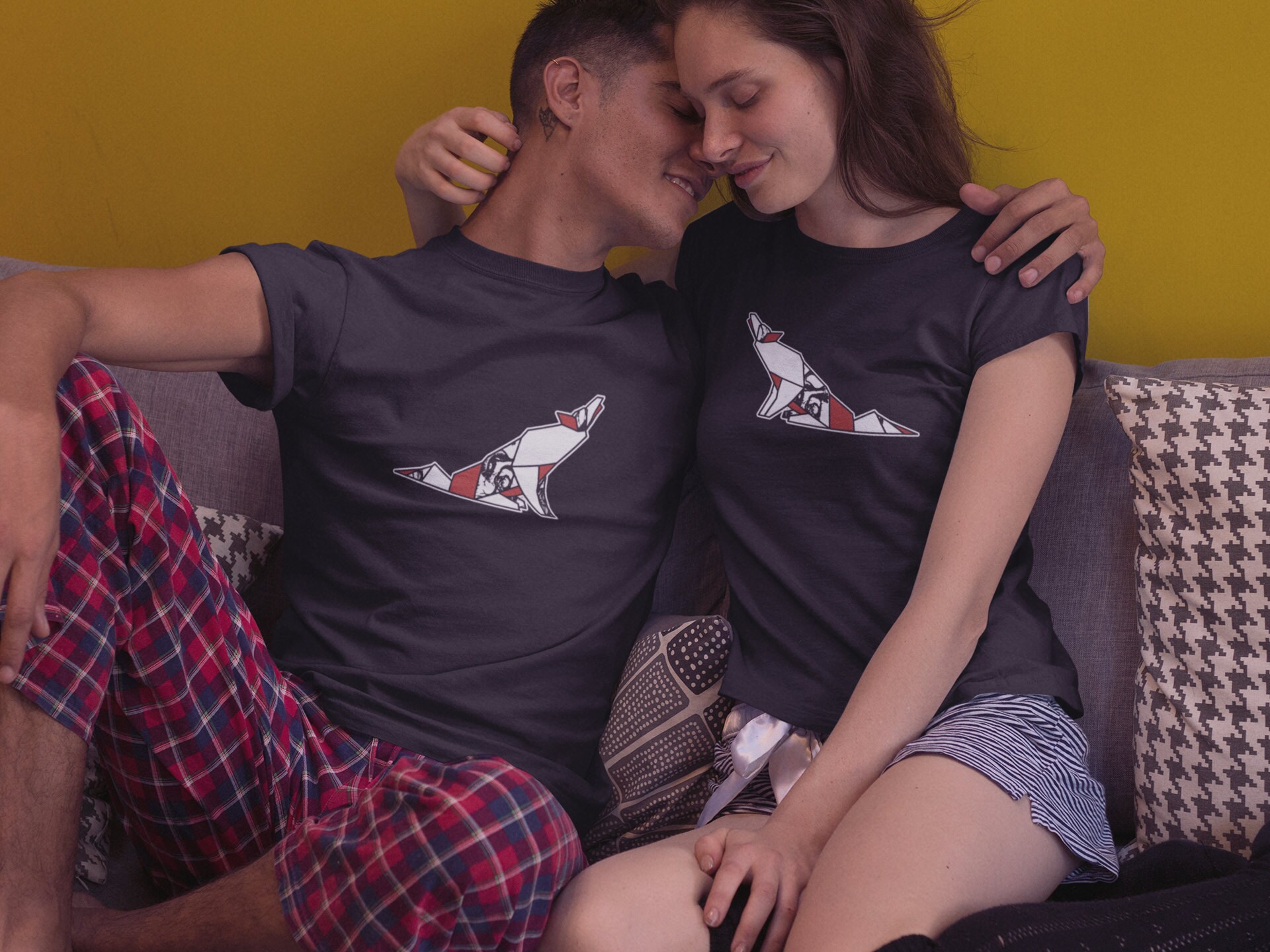 🐺WOLF
A pair of wolves stays together all their life, but not just for a matter of reproduction. Wolves are one of the most loyal animals to their partner that can be found in nature. It is not known exactly what leads a wolf to choose a particular wolf and vice versa, but when two wolves mate they stay together for life, that is from 6 to 8 years in the wild or even up to 15 years in captivity. The wolf is a very faithful animal (more faithful than a human being) and reproduces with another similar only if one of the two dies or gets lost and does not return to the pack.
https://www.etsy.com/en/listing/927720098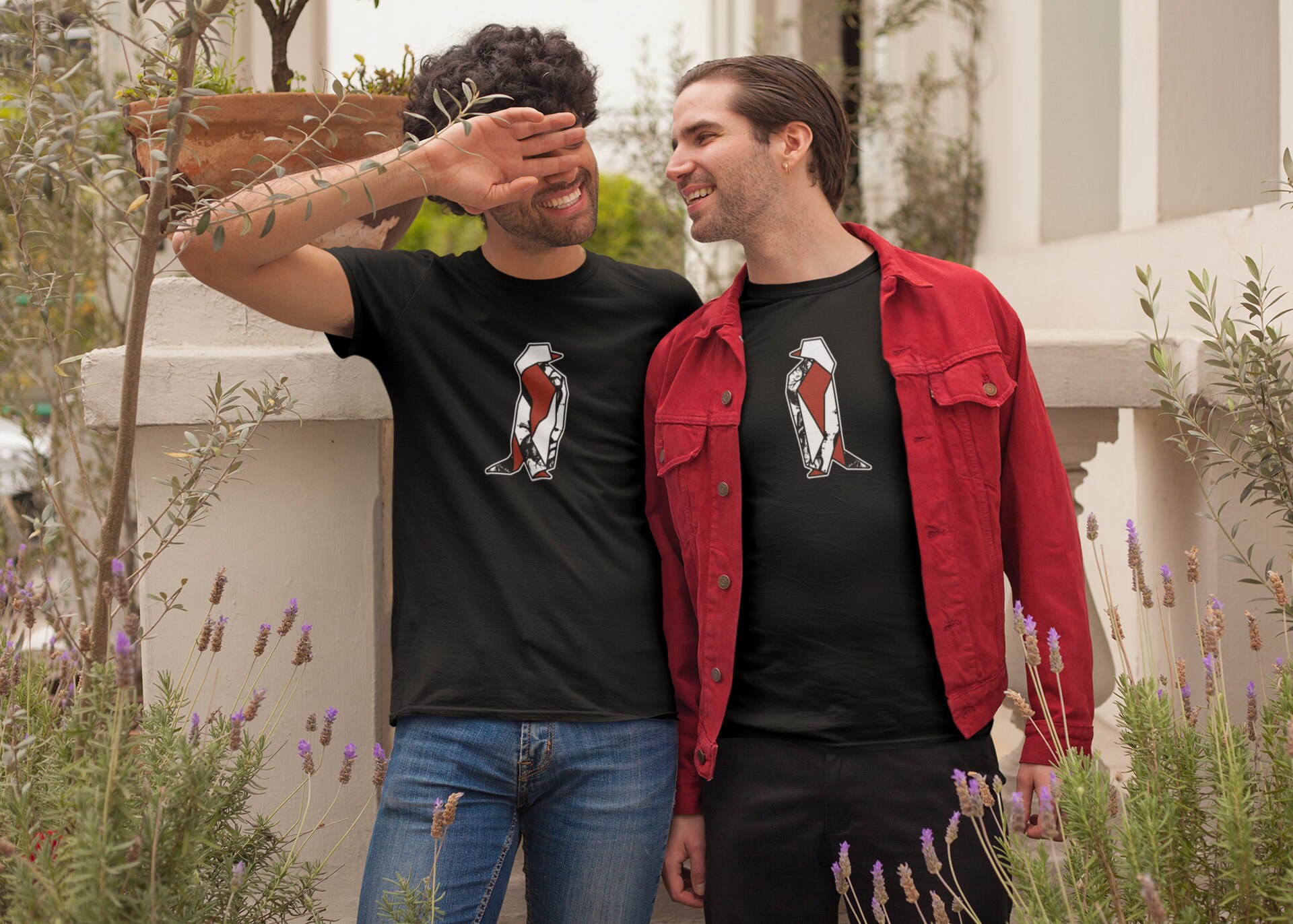 🐧PENGUINS
In penguins, the male carries out a courtship before mating: he croaks to attract the female's attention, combs his feathers or begins to create a nest, although it should be noted that it is the females who choose their mate, a very important decision for the future of the offspring and also because they will remain united for life.
Once the female has chosen her male partner, they perform to seal the bond that unites them: they usually remain quiet one in front of the other, while they stretch their heads, move their wings and shake, they can bow, make their legs vibrate  or croaking in unison.
After mating, the penguins will take turns incubating the eggs and taking care of them until they hatch.
They are monogamous animals, they stay with their mate all their life (until one of them dies).
They can become extremely aggressive if they observe another penguin seducing their mate.
https://www.etsy.com/listing/941659425
🦜PARROTS
The parrot is a social animal that feels lonely and sad when not in company. It is absolutely one of the most faithful animals to the partner, in fact, it would need a companion by its side to be happy. If he is lucky enough to be in good company, he will never want to part with his partner! The death of a friend or companion is a terrible event for the parrot and can lead to anxiety.
https://www.etsy.com/listing/927724486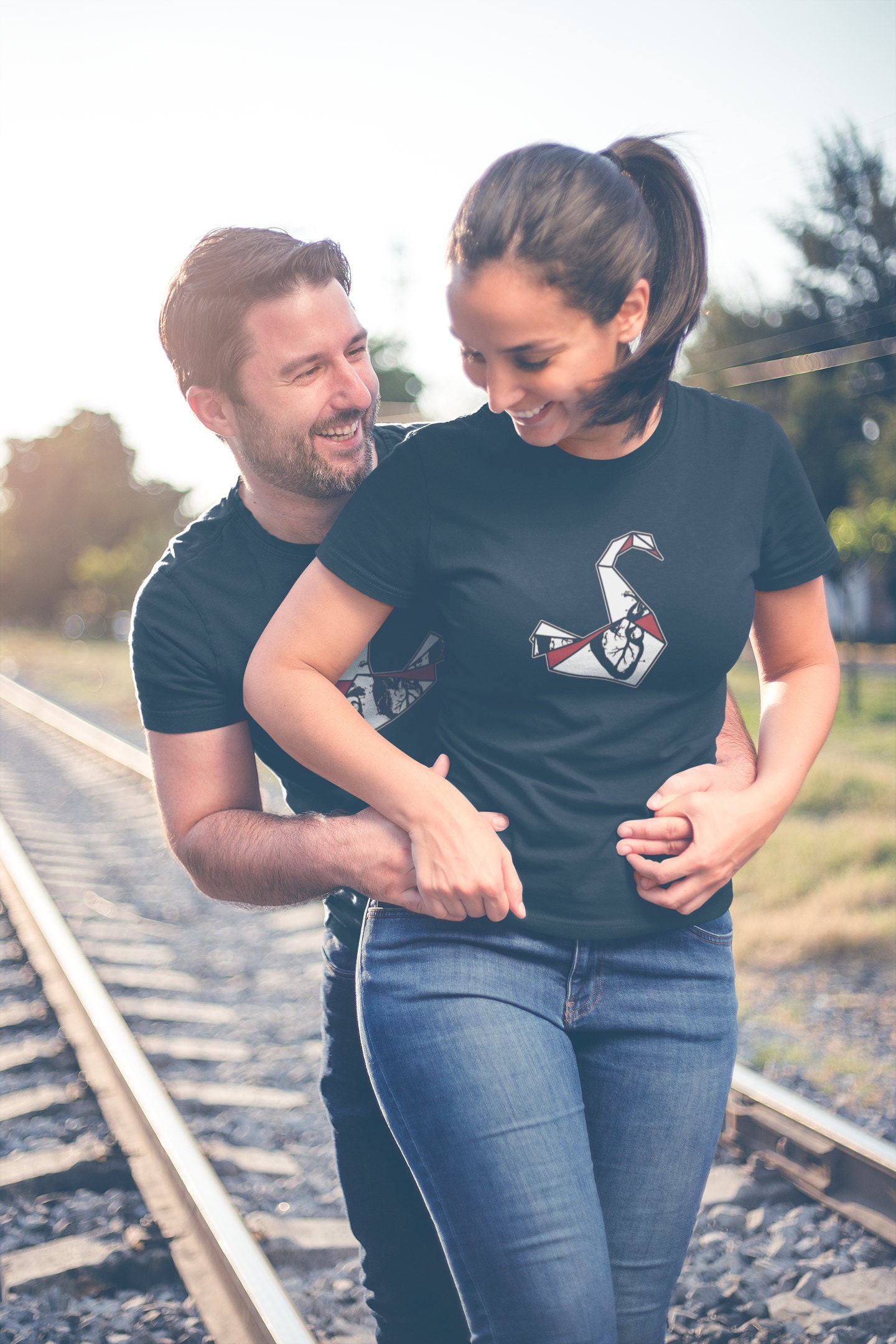 🦢SWAN
Swans are animals that live in pairs, and tend to get to know each other in the winter months. When they meet, they swim close to each other making distinctive and bewitching neck movements. Once the female has laid her eggs, she will take care of the young, although the opposite can occur on some exceptional occasions. They are very territorial animals in the vicinity of where the cubs grow and could be aggressive with other swans and even with humans. Once they have found their partner, they remain faithful: some specimens even after the death of their partner do not try to reconstitute a couple.